ABOUT US
Calm Salon is conveniently located on Piedmont Avenue, one of the upscale, boutique shopping districts in Oakland. Owned and operated by Eryn Harrison, Calm Salon is an oasis of dedicated artists who understand the need to escape the hectic pace of everyday life. Whether clients are visiting Calm Salon for a quick blow-dry, or full highlights and a haircut, they will be treated with impeccable customer service.
MISSION STATEMENT
To be treated with respect. To honor what your hair needs are. To provide a luxury experience for each individual. To be pampered and respected. With 25 years of hair care experience, it is our goal to give exceptional service catered to every client. With the best products available to make your hair look and feel it's very best. Today and every day. It's not only how your hair looks and feels while in the salon but after you leave. It is our mission to create an experience every visit that connects with your emotions. Calm is a state of being. We want that to continue and reflect in our clients and their hair.
MEET THE OWNER/ MASTER STYLIST
An Oakland native, Eryn Harrison understands the need to remove oneself occasionally from the hectic pace of everyday life. Eryn's goal is to work with each client to provide a service that is tailored to the needs, desires, and lifestyle of the individual. She does this by combining more than 20 years of experience cutting and coloring hair with her extensive knowledge of the latest innovations in cutting techniques, color technology, extension applications and product development. Eryn synthesizes her experience and knowledge with unparalleled customer service to provide the ultimate Calm experience for her clients.
THE NEIGHBORHOOD
Hip and diverse, Piedmont Avenue is one of the most interesting districts in Oakland. A popular "art-house" theatre, eclectic mixes of boutiques and vintage stores, gourmet restaurants, and coffee houses all blend together to offer a one-of-a-kind shopping experience. Come into Calm Salon for an appointment before meeting friends for drinks or dinner. See a list of our favorite shops and eateries.
Come and have your hair done and go out for a night on the town. Need a restaurant recommendation? Check out some of our favorite local shops and eateries…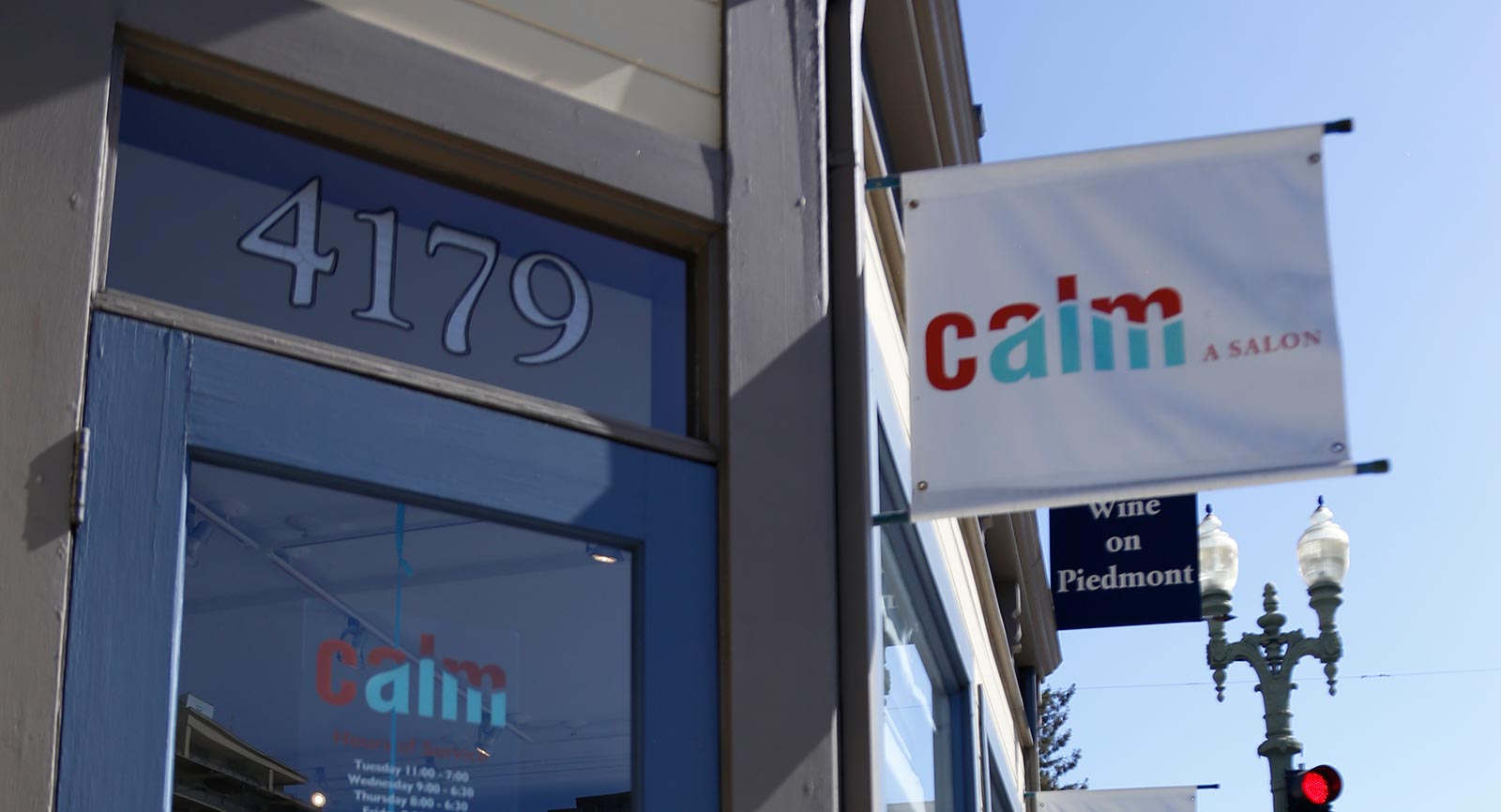 SALON POLICIES AND ACCEPTED PAYMENTS
Consultations are a meeting of the minds, essential to mapping out both your and our vision and strategy for your hair. This is a perfect time to discuss new ideas or trends, and allows us to get your point of view. Consultations are required for all new clients and existing clients who are wanting to make a change, be it subtle or major.
We guarantee all our retail products and services. If it doesn't work for you, please let us know within the first week (7 business days) of your service or purchase.
Accepted payments are Visa, MC, AmEx, Venmo, and personal checks. No gratuities on credit cards. A deposit is required for all Coppala Keratin Treatments ($100). 48-hour cancellation required for deposit return. All cosmetic sales are final. Product returns are for in-salon credit only.